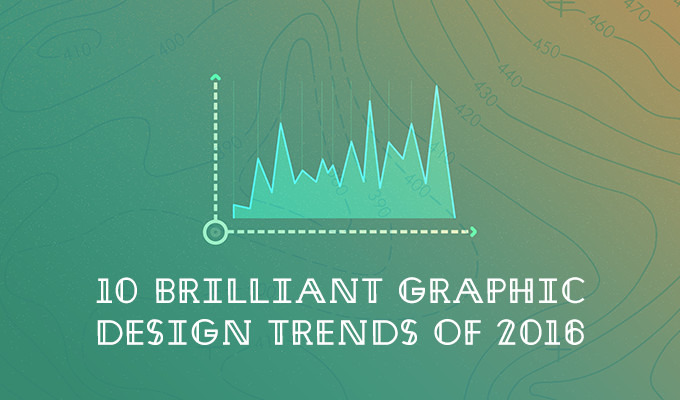 10 Brilliant Graphic Design Trends of 2016
Trends come and go, they emerge, some stay for years, others are more of a flash in the pan. They don't start one year and end the next, instead they shift until they fade out. It's a process that often begins on the catwalk, and gradually moves to other areas such as graphic design, packaging, illustration, and home decor. A trend might be just entering one market, while it's in full bloom on another market and fading in a third. It's common to see trends that go in opposite directions, such as a futuristic, high-tech trend and a trend like the hipster beard, that's more nostalgic, looking to the past for inspiration. Trend spotting is a lot of fun, and a great way to infuse your work with fresh ideas.
1. Flat 2.0.
The flat design trend is characterised by a clean, colorful look, big typography, white space, and subtle gradients. It's influenced by minimalism, Bauhaus and the Swiss Style. Flat design was introduced in 2006 with Microsoft's Zune mp3 player, refreshed by Apple's iOS 7 in 2013, and further refined by Google's Material design in 2014. A beautiful example can be found in the award-winning indie game Monument Valley.
This trend has the staying power of a visual language that creates high usability and fast loading times. It's also easy to mix flat design with more intricate or hand drawn artwork and photography, which makes the trend versatile and flexible. It started as a completely flat style, and has been updated adding depth, light and shadow, as well as motion.
In 2016 we'll continue to see the popularity of the style grow, and spread from UI design, to areas such as surface pattern design and illustration.
2. Bold, Playful Typography
3. Whimsical Illustrations
Whimsical, hand drawn illustrations aren't just for kids anymore. An example can be seen in Dropbox's friendly doodles that inject a playful human element. Illustrators continue to explore sketchy lines and brushstrokes, mixing their tools and techniques, digital and analog, and this leads to a broader range of illustration styles and use, including isometric projections and illustrated hero images.
4. The New Retro
5. Motion
6. Minimalist Logotypes
Minimalism, flat design, negative space, subtle gradients, kinetic logos and crisp mono line styles are the logo trends for 2016.
7. Geometric Shapes
8. Print-inspired
The print-inspired trend is likely to continue this year. Inspired by pre-digital printing processes, it displays slabs of colour, rich textures, and mis-print effects. In 2016, we'll see this style evolve to take its cue from the Risograph with it's bright, neon colors and fun, unpredictable overprint effects.
9. Abstract Swiss
In contrast to the more excessive, 80's inspired styles, a rebellious, minimalist trend is evolving. Unlike the popular card layout trend, this trend aims to break the rules. Deconstruct and distorting layouts in a seemingly random way.

read more ...
10. Movies and Cartoons
The superhero film has been trending in Hollywood since 2001. Other trends in film and TV include Game of Thrones, sci-fi such as Her, Under The Skin and Ex Machina, and the spy genre with tv-series such as Homeland and London Spy. The Outer Space trend is trending just now in the children's market. Will film and TV influence graphic design further in 2016? We shall see.

source : creative market blog