Design Trend Alert: Mandalas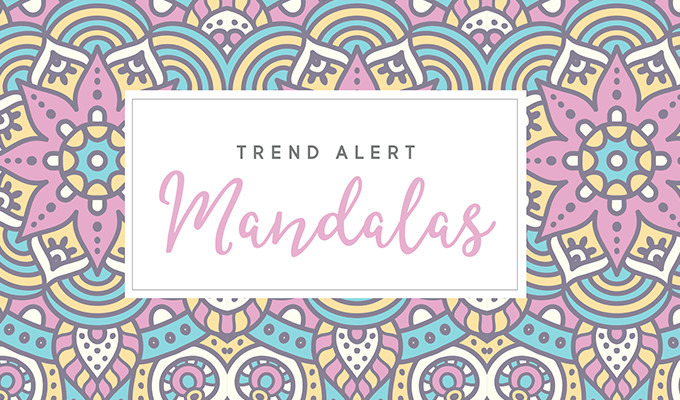 The 2016 Yoga in America Study Conducted by Yoga Journal and Yoga Alliance shows that the number of US yoga practitioners is now over 36 million. Similarly, the National Health Interview survey revealed that over 8% of American adults, some 18 million people, are engaged in some kind of meditation. As more of us have become familiar with meditative techniques and spiritual practices rooted in Eastern traditions, symbols like Mandalas have piqued our fascination.
Design has definitely reacted to the enchantment brought about by mandalas. While we will go a bit more in-depth throughout this article, a loose translation of the word mandala (from Sanskrit) points to it being a "circle" or "disc". In essence, these circles are created to represent larger meanings like one's inner self, locations, spiritual teachings, and even the universe at large.
Our goal with this report is to give you the resources to start playing with this trend in your personal and client work. To do so, we will go over three different aspects:
What a mandala is

How to create a mandala

How to use mandalas in design
What is a mandala?
According to the Encyclopedia of World Religions (by Encyclopedia Britannica), a mandala is a symbolic circular diagram used as an instrument of meditation and to perform certain sacred rituals. According to certain Hindu and Buddhist traditions, one is supposed to mentally "enter" the mandala and proceed towards its center. In doing so, we are experiencing an analogy: as the cosmos integrates and disintegrates, so do we.
Mandalas can be created using paper, cloth, threads, rice powders, stone or bronze. In the image below, you'll find a Tibetan mandala knitted from colorful threads:
Interestingly enough, some researchers report that both Navajo Indians and Tibetan monks created sand mandalas to represent the impermanence of life. That said, there's a chance these (macro and micro) cosmic symbols aren't exclusive to Eastern cultures. If you're interested in Native American mandalas, make sure to check out this site.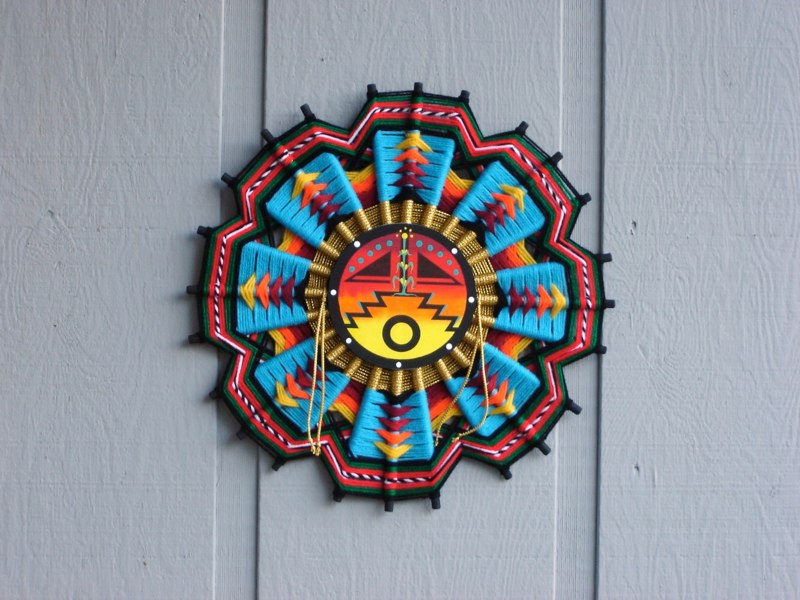 The American Navajo people also create sand paintings which are used in spiritual rituals–in much the same way as as they are used by Tibetans.
Mandalas as explained by psychologist Carl Jung
It is no surprise that these symbols are being used as an art therapy resource, hence becoming the main subject of countless coloring books. The renowned Swiss psychoanalyst used mandalas as a tool in his personal and client therapies. In his "Memories, Themes, Reflections" book, Jung explains:
I sketched every morning in a notebook a small circular drawing, ... which seemed to correspond to my inner situation at the time. ... Only gradually did I discover what the mandala really is: ... the Self, the wholeness of the personality, which if all goes well is harmonious.
In allowing you to access deeper levels of conscience, creating mandalas can help stabilize, integrate, and re-order your inner life. Jung's ideas have inspired many art therapists and the production of various mandala-based reflection tools — including coloring books.
How to draw a mandala
Most experts agree that rules shouldn't limit your creativity when creating mandalas. Kathryn Costa, curator of the 100 Mandalas Project, simplified the process of drawing a mandala in a series of basic steps here.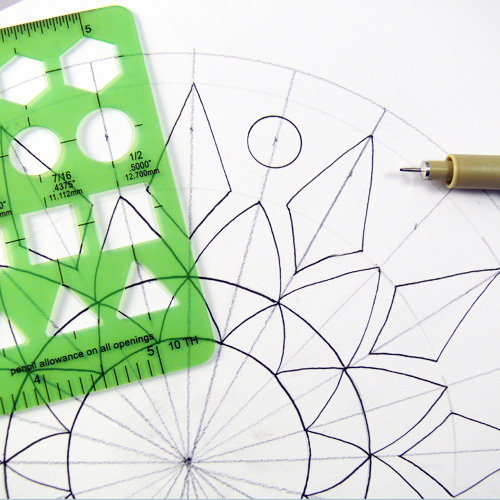 If you'd like to explore a digital approach, try this mandala logo creator kit. It comes with circles, ornaments, and other elements:
Now, as you read this, it's important to realize that the original mandala creation methods are involved, sacred and ritual to many. According to The Pluralism Project, by Harvard, a traditional Tibetan mandala is created of fine multi-colored sand, placed grain by grain in the intricate circle. "Working outward from the center along a pattern that has been laid out, monks place the grains using special metal funnels that release a steady stream of sand, one grain at a time. The meditation does not begin on completion of the mandala; rather, the creation of the mandala is itself a form of meditation for the Namgyal monks of the lineage of the Dalai Lama. The placing of the sand requires the finely honed quality of attentive, unwavering presence that is meditation. The mandalas, some six feet in diameter, take three to four weeks to complete."
Take a look at this video of four Tibetan monks who visited Clark College (Vancover, WA) to create a sand mandala:
How to use mandalas in design
Mandalas can be used in various design fields. From logo to website design, their symmetry and color combinations can add diversity, and a sense of personal identity, to your compositions. Get inspired with some of the most interesting mandala projects we've seen in the design community lately.
Created as a piece for our wellness program here at YY HQ I promise you that making mandalas is leagues better than coloring them in one of those over gifted adult coloring books. I promise you.
Had a good time working with Aliment doing a rebrand for them. It's not too often i get to brand restaurants but hot damn its fun.
Read this on dribbble.com >
Final emblem design for The Experiential Company. The geometry was built up from a hexagonal pattern, influenced by the Mayan calendar motifs, as well as Mandala arts, Illuminati, clockwork, Aztek...
Read this on dribbble.com >
We worked closely with Global Family Farms to develop their brand new tea product that just recently hit the shelves in Whole Foods across the US. Sherpa Power Tea is an organic sweet tea that uses native Nepalese ingredients harvested by farmers in Nepal. In April 2015, the Nepal earthquake killed over 8,000 people and injured more than 21,000, destroying Nepal's economy. The idea behind the product was to revitalize the Nepalese agriculture industry through the employment of farmers and exporting of their goods to provide high-quality bevarages to Western cities.
*Winner of

Best New Beverage

at the NEXTY Awards.*
Caption:
Custom Mandalas were built as emblems representing each particular flavor. Each Mandala was about 36 inches wide, constructed of printed paper and chipboard. The mandalas were inspired by the tiered terrace farming landscapes found all throughout Nepal.
Caption:
Detail shot of the Mango Black Tea Mandala
Caption:
Detail shot of the Mango Black Tea Mandala
Caption:
Detail shot of the Dragonfruit Black Tea Mandala
Caption:
The end product features the photographed mandala with embossed rings across all natural recycled paper labels.