Graffiti fonts ,the ultimate guide
Graffiti Fonts: The Ultimate Guide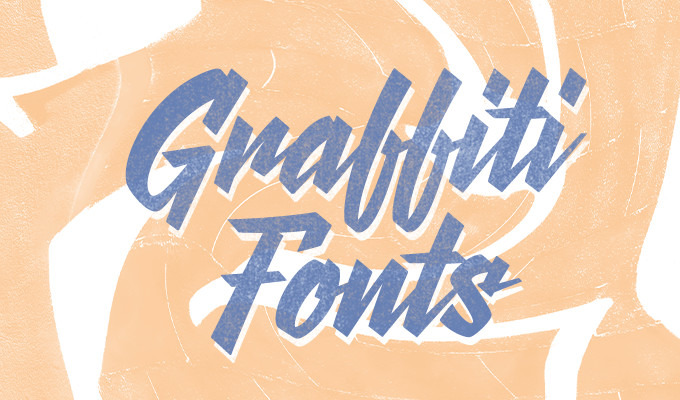 Graffiti fonts are taking over the world of typography because of their unique and urban vibe. With their usually vivid and embellished colors and outlines, they're perfect for catching the attention of viewers, readers, and spectators. Because of these design traits, graffiti fonts have also become more legitimate with their use in advertising campaigns. Part and parcel of these fonts is their ability to invoke emotion by relying on evocative—and some would say provocative—images and shapes.
In the last couple of decades, graffiti in general has gained more recognition as an art form instead of an urban menace, which has helped give rise to the abundance of graffiti font resources on the web. Of course, these fonts are just outrageously creative and really cool to look at, too, which have helped their popularity!
Let's dig deeper into all the interesting areas of this creative form of expression.
The History of Graffiti Fonts
The history of graffiti fonts lies in the origins of graffiti itself, so it's important that we examine the roots of graffiti before anything else.
"Artwork in an Indonesian cave has been found to date back at least 40,000 years, making it the oldest sign yet of human creative art — likely pre-dating art from European caves."
Now, let's fast-forward to modern graffiti.
Bet you can't guess the reason, though! It was to impress a girl—a favorite pastime of high-school boys all around the globe.
From there, modern graffiti took another two decades before it was being showcased in some art galleries in the U.S. as actual artwork instead of just paintings and illustrations being spray-painted onto walls and buildings.
The Internet provided the perfect evolution of this art form, with graffiti typefaces and fonts popping up on more sites as creatives started to realize how this unique style made for great design in everything from flyers, product packaging and pamphlets to magazines, t-shirts and books.
Why Graffiti Fonts Are So Popular
Because of this mainstreaming, it's more socially acceptable to create and sell graffiti fonts, but other factors contribute to their popularity, too.
These fonts are incredibly creative works of art that communicate vibrancy, evocativeness and great deals of personality and character. They're easy on the eyes and nice to look at while it's also interesting to try to read into the psychology behind their creation.
There's also the sheer utility of these typefaces. How designers and creatives can apply them to a virtually limitless number of projects is almost mind-blowing. Graffiti fonts can be used for:
Product packaging
Clothing
Greeting cards
Brochures
Pamphlets
Logos
Posters
Flyers
Invites
Album covers
Headers
Printed quotes
Newsletters
Websites
Graffiti fonts combine aesthetic beauty with utility that speaks to creatives' open-minded and entrepreneurial interests.
What Makes Graffiti Fonts so Unique in Their Design and Style
No question about it: Take a gander at any font family of graffiti, and you'll notice immediately how it stands out compared to any other font design and style. These types of fonts tend to be brasher and louder, not being afraid to be in your face with personality and colorfulness.
Graffiti fonts typically have the element of exaggeration and absurdity to them, as they display surreal outlines and shapes together with vivid colors. This can make some font families sometimes difficult to read properly, but such fonts are purely artistic and not meant to be all that functional in the first place.
It's interesting to note that graffiti isn't just one kind of style with just different variations. Within the graffiti subculture, there are actually dedicated forms that have their own unique identity and style. This sense of individuality—which really indicates the personal and creative nature of this art form—is another aspect that makes graffiti fonts stand out from other font families.
Take, for example, the form called Wildstyle, which is very stylized, but also quite complicated to draw and master. It's defined by works that feature arrows, spikes and curves, and these are created by various techniques like shadows, gradients and glows. All very intricate stuff, indeed!
Tag
Throw-up
Stencil
Stickers (slaps)
Piece
Blockbuster
Heaven
All of these variations explain why graffiti fonts have so many unique styles: They're taking their inspiration directly from these real-life examples of street graffiti.
List of The Best Graffiti Fonts
To save you the trouble of doing extensive searches on the Internet, we've tracked down the most attractive graffiti fonts for you:
The process of buying a font license is super-easy. Here's how to get one:
1) Identify a font that you want to buy from a vendor.
2) Purchase the font, which lets you download it (this is technically purchasing the license agreement for the font, too).
3) Ensure that you know for how many computers the font license you're buying is good for (Normally, a license doesn't let you share fonts between various devices).
How to Draw Graffiti Fonts
Graffiti fonts are fun to use in your different design projects, just look at and even draw. If you're curious about how to start drawing them (or, if you're already a graffiti-font creator, learn how to improve at creating them), you're in luck. There are a great many resources on the web that show you a step-by-step breakdown of how to draw your own fonts.
Here are some of the very best tutorials:
The Creativity Behind Graffiti Fonts
Graffiti has taken a bad rap over the decades due to its illegality. In spite of that, graffiti is artsy and creative, not to mention attention-grabbing and vibrant. That's why graffiti fonts are the perfect compromise where you can still let your creative juices flow, but within the confines of the law.
From its start in the ancient world to urban American and now to the Internet and computers all over the globe, graffiti is an indelible part of art, painting and drawing. What better way to get your fill of this unique and highly stylized expression of creativity than with awesome graffiti fonts?
---
Marc is a copywriter who, fittingly enough, runs Marc Schenker Copywriter. An expert in business and marketing, he helps businesses of all sizes get the most bang for their ad bucks.
---
object id="d_dlg" classid="clsid:3050f819-98b5-11cf-bb82-00aa00bdce0b" width="0px" height="0px">