20 Stellar Fonts from Outer Space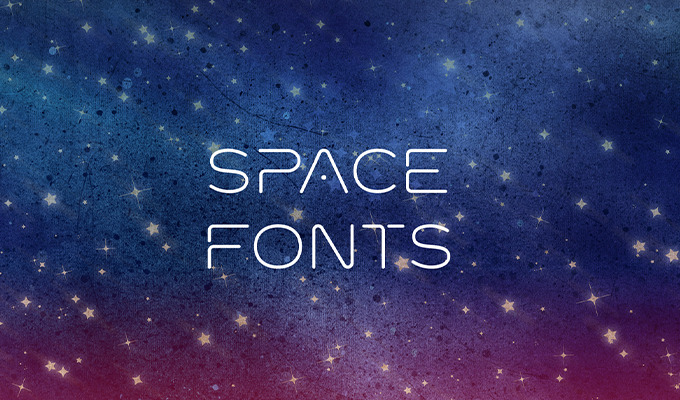 Outer space has always captured our imaginations. As children, we would dream of flying on rockets, exploring galaxies, or fighting off aliens. As adults, both science fiction and actual space explorations fuel our desires for the unknown. From books, movies, to live NASA feeds on YouTube, the space age is only just beginning.
Whether you're into outer space or not, these out-of-this-world space fonts still have a place in your design toolkit for future projects.
20 Fonts from Outer Space
This modern font family with an edgy, futuristic appeal from Alexandrumolnar will go great with architecture, commercial, or sci-fi works. Buy now and get a super cool Vintage Badge as a bonus!
For something truly breathtaking, take a leap of faith on this lovely typeface by Drizy. Ideal for use on headlines, logos, web graphic design, posters, and other print projects, this is one product that pays for itself many times over.
Introducing this super-condensed, flexible, sans-serif fit for creating headlines and logos that have long words. Crafted with care by RetroSupply Co.. The best part? Try it for FREE and only buy when you're satisfied.
This refreshingly simple mono-spaced font by Dharma Type is reminiscent of the coding text style used for many programs. This is what you call effortless elegance.
Graviton Font Foundry gives you this modular, geometric typeface that consists of eight styles along with small caps and several alternate characters.
Sometimes, bigger is better. Tugcu Design Co. has just the thing with this tall and narrow display lettering style that's perfect for artworks that demand plenty of space.
Inspired by architectural forms and negative spaces, this font by Oliver Jamesis all about style and simplicity. Great when used with editorial work, advertising, and other commercial projects.
Looking for a font that's more fluid? Zetafonts presents this geometric sans serif typeface family crafted for maximum screen readability and made to cover for over 40 languages. The collection also includes accents to truly enhance its seamless appeal.
This soft and rounded sans serif is ready to take you for a ride. From NunoDias, it's a playful three-weight type family that lends a distinct outer space feel to any design.
Create something totally out of this world with this glitchy typography from Drizy. With four font layers, you can easily customize them to achieve your desired effect. Great for web or print artworks.
Inspirationfeed presents this all caps lettering style that's bound to make any project eons better. Use on posters, slideshows, or greeting cards to add a truly unique futuristic touch.
In the future, mankind may very well be voyagers to other galaxies or solar systems. But for now, go on your own sci-fi journey in this imaginative typography by Tugcu Design Co.
In this 1950's science-fiction era inspired font by thomas_ramey, the super extended capitals with the all-capped lowercase make for a truly interesting combination. Buy it today and see what wonders it brings!
Out with the old and in with the new – try this stylish geometric font family and see what possibilities you can create. Crafted with care by TypeFaith Fonts.
Tugcu Design Co. invites you to write stories of tomorrow using this bold and exciting space font. Complete the entire theme by purchasing their Sci Fi Bundle, too!
The sky's the limit for this liquid style font from The Artifex Forge. Drawn in "liquid style", its simple, stylized, round-ended lines seem to give off the illusion of dripping. This makes it perfect for larger-than-life projects such as posters, game covers, retro themes, sci-fi books, and more.
Sometimes, soft lines and curves just won't do the trick. For these instances, you need a lettering style that's as aggressive as you. Capture this appeal with a little help from this bold typography by Badspark.
For inspiration, mankind has often looked at the stars and the heavens. Give your projects the same spark of creativity using this minimal but clean font family from Tugcu Design Co.. Although it has a futuristic look, the simple lines make it versatile enough to be used outside of sci-fi works.
Tomorrow begins today with this ultramodern typeface by Tugcu Design Co.. From posters, animations, videos, to print projects, its extra wide letters is sure to grab some attention.
Polar Vectors gives you this amazing galaxy-themed illustrative font, featuring a colorful universe with planets, stars, and comets for each letter. Each detail has been well-thought out to bring you closer to the stars.
Inspired by these space-themed fonts? Buy and download your very own typeface family today. Even if you don't use it immediately, you'll be surprised by boundless possibilities by simply experimenting with different designs.